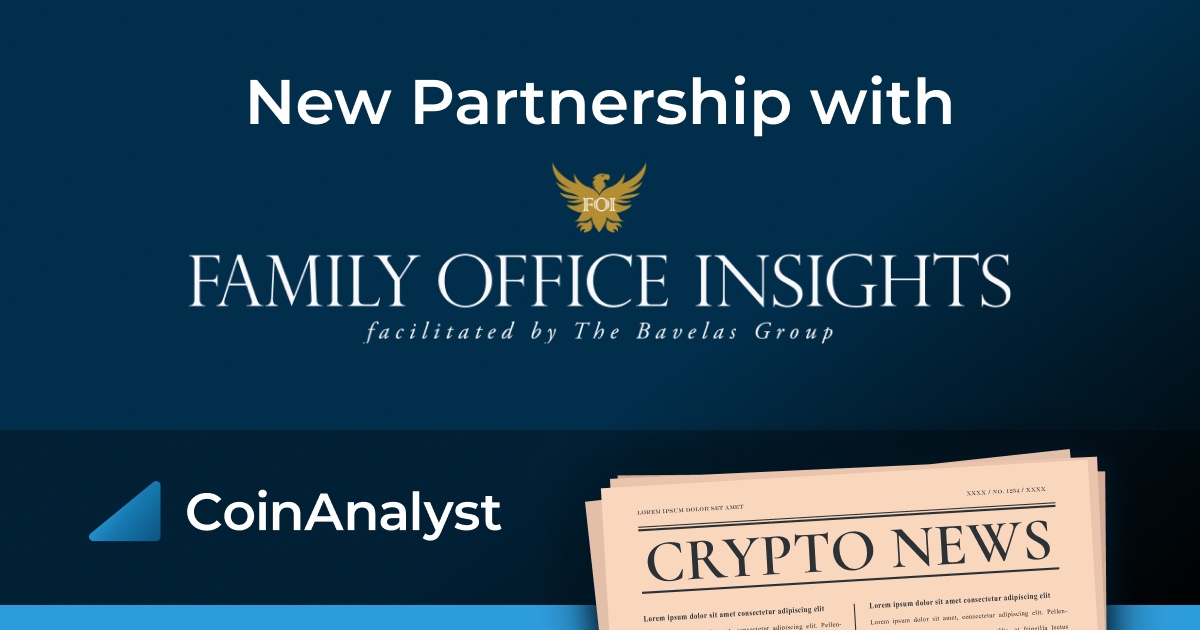 Frankfurt am Main, January 21st, 2021. – Frankfurt-based company CoinAnalyst, which provides an AI-based Big Data analytics platform for the crypto market, announces its partnership with US-based Family Office Insights (FOI).
Family Office Insights is a collaborative peer-to-peer community of individual family offices, qualified investors and institutional investors. It provides a private, secure environment where members can engage with peers and global leaders about investing and managing their wealth effectively.
To broaden the knowledge base here, FOI will now offer CoinAnalyst to its members as a white-label solution to provide them with guidance and confidence when entering the confusing crypto market and trading cryptocurrencies.
Arthur Andrew Bavelas, founder of FOI, says: "Private is Power and in recent months, family offices and other investors have increasingly discovered cryptocurrencies as a potentially lucrative investment, and with CoinAnalyst we can provide them with the best tool to analyze the market and calculate opportunities and risks here. Knowledge is Power." Pascal Lauria, CEO of CoinAnalyst, added: "With this partnership, we reach high-potential investors who are always looking for the best investment opportunities and can therefore take full advantage of CoinAnalyst's services."
---
About CoinAnalyst
CoinAnalyst is a German company that provides an AI-based Big Data analytics platform that allows any trader in the crypto asset sector and other industries to access a dashboard that monitors and analyzes real-time crypto market data. The platform continuously collects all relevant information about cryptocurrencies and ICOs from all available sources in near real-time. The system is based on the patented and award-winning Cogia technology. This enables semantic indexing and structuring of online data using pattern recognition and artificial intelligence and has already been successfully used by Fortune 500 customers for several years.
Further informationen:
coin analyst UG (limited liability)
Niddastraße 64
60329 Frankfurt am Main
Phone: +49 (69) 26 48 485 – 25
Mail: [email protected]
Register court: Frankfurt am Main / Register number: HRB 87423
About Family Office Insights
A safe, private, curated environment where investors not only learn from experts, thought leaders and asset managers, but also from their peers. The private Family Office Insights investor community represents a wide spectrum of investment views and levels of investment knowledge. Family Office Insights community participants share a commitment to improving their understanding of the complexities of the financial landscape with their peers and seek to become more effective stewards of wealth.
Arthur Andrew Bavelas, Founder of BavelasGroup Family Office, Family Office Insights, Arthur's Round Table Series, Family Office Funding Challenge , Global Business Network, The Family Office Impact Summit, Creator of The Bavelas Index (TBI)™ Family Office Investor Sentiment Index™
As a globally recognized entrepreneur, author, and family office investor. Arthur Bavelas is a pioneer in developing one of the first private opportunity review networks, Family Office Insights, for investors within the family office community.
Fostering a collaborative method of evaluation and delivering a more efficient potential investment pipeline, Family Office Insights initiates timely peer-to-peer review of limited access investment opportunities.
Driven by dissatisfaction at lack of choices for private capital allocation, he founded Family Office Insights in 1998 to provide meaningful access and engagement opportunities for active, socially conscious entrepreneurs and wealth managers.
Mr. Bavelas draws upon his own experience founding, building and exiting a successful technology startup to evaluate current opportunities that often feature innovative intellectual property, bridge customer/market access, or solve some of the world's most daunting challenges.
As a founder of The Family Office Impact Summit and other impact efforts, Mr. Bavelas seeks to raise awareness and provide open access to technologies and innovation to effect societal and environmental change.
Family Office Insights, BavelasGroup and/or an affiliates or assigns does not offer or give medical, financial or investment advice, or offer or suggest or recommend securities or any other invest for sale or otherwise, and is not a broker dealer. We do not accept success fees. Anyone considering deployment of capital will likely be well served by seeking advice from a qualified professional.
Family Office Insights
5 Penn Plaza, New York, New York, 10001
Press: [email protected]
Contact: [email protected]
https://familyofficeinsights.com/